Kingdom
Populace Badges
- Aethelmearc *
- An Tir *
- Ansteorra *
- Artemisia **
- Atenveldt *
- Atlantia **
- Avacal **
- Caid
- Calontir *
- Drachenwald **
- Ealdormere *
- East *
- Gleann Abhann **
- Lochac
- Meridies *
- Mid Realm (Middle) **
- NorthShield
- Outlands **
- Trimaris *
- West *
- West, Principality of The Mists *
Peerage
- Chivalry **
- Laurel: Ring 007 & Ring 012
- Masters of Defence **
- Pelican: Ring 013
Kingdom Awards
- Atenveldt *
- Ealdormere *
- East *
* Items are etched & ready for finishing
** Winter 2017/2018
Facebook: Gæira's Anvil Jewelry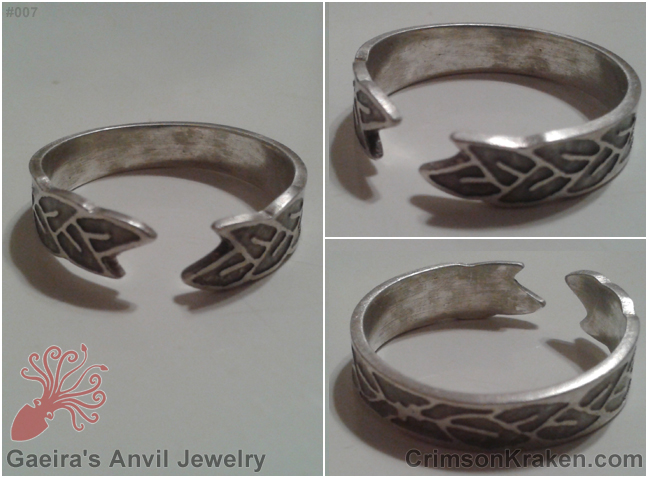 SCA Laurel Wreath, Adjustable Cuff Ring
Antique Finished, Sterling Silver

Size: 8 1/2 to 9 1/4 (8 1/2 shown)

This hand-crafted ring is my second style for a Laurel ring design, the back of the cuff is slightly narrower than the front for a comfortable fit.

This style is available by commission in other sizes.

$120.00 USD plus $5.00 USD Shipping Regular Mail

Currently in stock: 2 items

Please email me at gaeirasanvil (at) gmail (dot) com or message me on my Facebook page Gaeira's Anvil Jewelry if you would like to order this ring or make a commission. I will send you a PayPal.me URL for direct payment through PayPal.


Please note: Canadian orders are subject to GST, and Québec orders to GST and QST.

* Also available by commission in Nickle Silver which looks similar to Sterling Silver.